The DataFEWSion Traineeship is an educational model aimed at creating emerging leaders in the FEW system nexus.
Benefits to the Trainees
Opportunity to collaborate on world-class interdisciplinary research
Participate in a Graduate Learning Community of highly motivated and talented graduate students
Develop technical language across disciplines with data science and decision modeling at the core
Develop a knowledge base to address complex issues and affect change, with an awareness of social, political, and economic impacts
Develop communication skills to address a diverse audience from producers to policymakers to industry executives
Prepare for various career paths in academia, industry, NGOs, government, or entrepreneurship
Traineeship Components
The DataFEWSion program is structured to develop new leaders with technical knowledge, professional skills, and cross-disciplinary communication.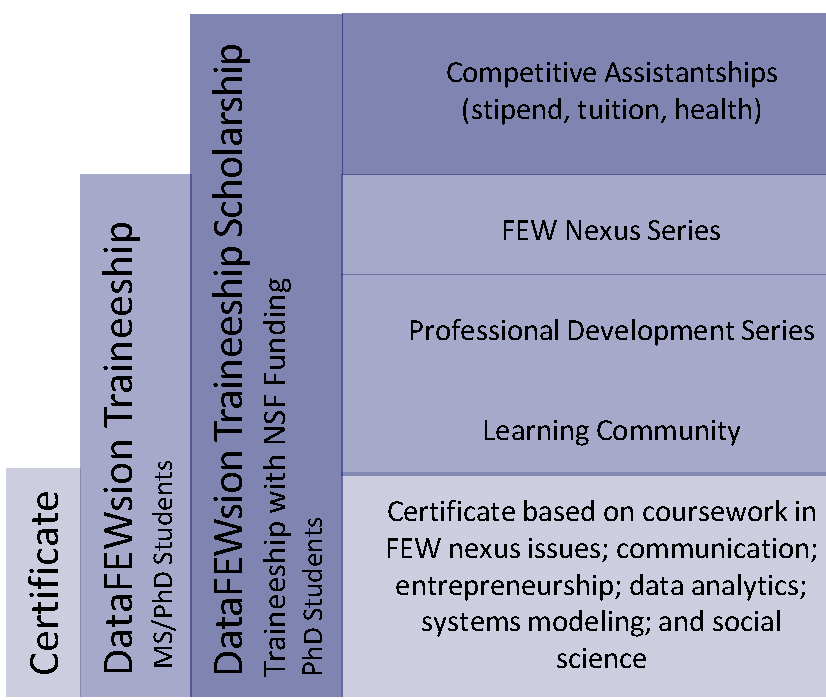 3 Levels of participation:
Certificate:
You may opt to only obtain the graduate certificate in "Data-Driven Food, Energy, and Water Decision Making"
Traineeship:
The traineeship incorporates the learning community and certificate to make the most of a comprehensive professional development program around the FEWS nexus
Trainee Stipend, Tuition, Fees & Healthcare package:
This funding is available to exceptional Ph.D. students who are US citizens or permanent residents.
Key components of the Traineeship:
Workshop series:
FEWS nexus series: understanding the complexities and interacting with the stakeholders involved.
Professional development series: communication tools & skills to effectively present innovation.
Graduate Learning Community: interdisciplinary sharing, collaboration, and peer review.
Graduate certificate:
Includes coursework in FEWS nexus issues; communication; entrepreneurship; data analytics & visualization; system modeling; and social science.
Annual Spring Symposium
Each year the DataFEWSion Research Symposium provides the trainees an opportunity for professional presentation of their research, plus interactions with a diverse group of stakeholders, such as producers, industry, policymakers, agencies, and other researchers.
Program Timeline