DataFEWSion Graduate Traineeship Handbook
This handbook provides general guidance to the DataFEWSion Graduate Traineeship program. For specific questions, please address them to datafewsion@iastate.edu.                                                                                                                                  Working Document – July 2021
Welcome to the DataFEWSion Graduate Traineeship program at Iowa State University!
This student handbook provides guidance about important issues related to your participation in the program. For more general information on graduate studies at Iowa State University, visit your program of study graduate handbook or the Graduate College website.
We are honored to have you participating in the program.  DatFEWSion is one of many NSF graduate traineeship programs in the United States, and we hope you will receive all that is intended in designing the program. We also encourage you to bring questions and comments to the DataFEWSion leadership team.
DataFEWSion Leadership Team:
Because the DataFEWSion graduate traineeship program continually seeks to improve, some changes may occur in this handbook. Students will be alerted to changes, and changes will be posted on the DataFEWSion website at www.datafewsion.iastate.edu.
Direct general questions to the DataFEWSion program coordinator:
Cynthia Lidtke
 Email: lidtke@iastate.edu
Office: 515-294-9095
DataFEWSion ColLABoration Space and Conference Room_ 3
Procedure to apply for the Graduate Certificate_ 3
Petition to add a course to the Certificate Electives_ 4
Graduate Learning Community (GLC) 4
NSF guidelines and requirements_ 10
Other Relevant Information_ 11
Appendix List
Appendix 1: Documents that require signatures
Appendix 2: Petition for Addition to Course Electives
Appendix 3: Learning Community Agenda
Appendix 4: Sample Peer Review outline
Appendix 5: Sample Travel Grant Application
Appendix 6: Acknowledgement of Support NSF grant # DGE-1828942 
Appendix 7: NSF NRT DataFEWSion Proposal Summary
Appendix 8: Annual Student Progress Report Guidelines
Addendum
Addendum 1: Group Developed Ground Rules
DataFEWSion ColLABoration Space and Conference Room
Location:  2624 Howe Hall
2624 Howe is a locked space.  You must have your ID activated to have keycard access.  The process is 1) complete the "Request for Keycard Access" found in Appendix 1, 2) have Cynthia sign it, 3) take it to 1620 Howe, 4) after approximately a 2-day process, you can return to 1620 Howe with your ID card to have it activated. 
2624 Conference Room
The conference room is available to you.  The room reservation schedule is located near the door; if not reserved, the room is available first-come, first served.  However, you can make reservations via Cynthia if you need to secure the space.
This is your group's primary space.  Please be aware of others in the room while you are collaborating. 
Kitchen Space
Full use of the kitchen space is available to you.
The Media:Scape tables can be connected directly or wireless.  You will have to download the Virtual Puck software through Steelcase to connect wireless. https://www.steelcase.com/virtual-puck-software-download/
Graduate Certificate in Data-Driven Food, Energy, and Water Decision Making
Coursework
The course electives you provided in your agreement were a proposed schedule.  You may select different electives as needed, but they must meet the requirements. I.e., one course from each of the three categories and all three core courses. The most accurate listing of Certificate Coursework is on the website  https://datafewsion.iastate.edu/2468-2/.  NOTE: the coursework for the certificate does not have to be completed in 2 years but must be completed before you graduate. 
Procedure to apply for the Graduate Certificate
Basic steps to the Graduate College's certificate process.
Complete the "Request to Pursue a Certificate in Addition to a Graduate Degree" https://secure.grad-college.iastate.edu/certificate-in-addition-to-degree/  (note the graduate college must first approve you for the certificate before completing the POS; allow up to two weeks.) 
Complete a POS for the certificate only  https://secure.grad-college.iastate.edu/certificate-program-of-study/.   These documents are on the Graduate College website https://www.grad-college.iastate.edu/student/forms/.
Upon completing the course work or the semester before your "final term," inform the Program Coordinator that you have completed the coursework for the certificate.  The program coordinator will submit a "Certificate Completed" signed by the Director of Certificate of Studies.  https://www.grad-college.iastate.edu/documents/forms/Certificate_Completion.pdf
Graduate College instructions: https://www.grad-college.iastate.edu/handbook/appendix.php?id=C
Petition to add a course to the Certificate Electives
In your traineeship agreement, you proposed a selection of electives.  You may change the electives from among the approved lists or petition for a new course.  The most up-to-date list of approved courses is on the DataFEWSion website "Program>Graduate Certificate Coursework."
You may petition to add a course to the elective list if it fulfills the goals of the certificate.  Appendix 2: Proposed Course Addition to the Graduate Certificate in Data-Driven Food, Energy, and Water Decision Making Policy details how to petition to add an elective course.
The leadership team will consider each request individually.  The leadership team will consider one transfer course up to 4 credits per student.  Inquire through private communication with Dr. Ryan, program director.
Graduate Learning Community (GLC)
Small-Group
The purpose of the small group is:
to form an interdisciplinary community that is prepared to explore and engage in collaborations
obtain leadership skills through chairing meets & setting agendas
learn professional development skills through training
develop and enhance communications skills
Following the ISU Graduate Learning Community model, students will meet weekly during the regular academic year for one hour and once a month for 2 hours for the workshop series. 
Chairing Meetings
Using a rotation, each team member will be responsible for chairing the meetings, including setting the agenda, running the meeting, keeping it on time, and presenting one news/information piece, science-related or not (approx. 5 min.).  See Appendix 3: Learning Community Agenda.  Past agendas are located in the DataFEWSion Canvas.
High-performing teams do not come about by accident. The team's performance is built on a foundation of mutual trust and respect, an understanding of the individual behaviors in the team, and alignment on the common purpose. (Ground Rules for High Performing Teams, Conf. Paper at PMI, 2014)
At the first meeting of the 2019 Cohorts (Sept. 2019), a set of group "ground rules" was established see Addendum 1: Group Ground Rules.  Each year they will be reviewed and revised. ISU's Principles of Community is one example https://www.diversity.iastate.edu/connect/principles.
Series 1 workshops emphasize the trainee's understanding of and appreciation for the social, economic, and geographic context of the Midwest FEW nexus, in particular, production agriculture, water quality, and bioenergy, as well as helping trainees to understand the unique strengths better that they bring as individuals to addressing FEW issues. 
Series 2 workshops emphasize communication skills to understand diverse audiences and modes of effecting change: entrepreneurship, policy-making, and transformative inter-disciplinary research.
ePortfolio
Trainees cap off their traineeship experience by creating/curating a portfolio that combines academic work from the courses in the Certificate program and research results from their dissertation/thesis work, with reflections designed to transform such materials into broader impacts for diverse audiences. 
Requirements/expectations:
Each portfolio will have a minimum of 6 artifacts. Artifacts or links to artifacts should be added to the appropriate assignment located in Cybox. https://iastate.app.box.com/folder/127827968160?s=m7p43h3pl6ad5mrcrsvsfn9h2i5mtdyr
A reflection piece should accompany each artifact in the portfolio.
The final step is to share with two DataFEWSion peers who will read and provide comments on each artifact.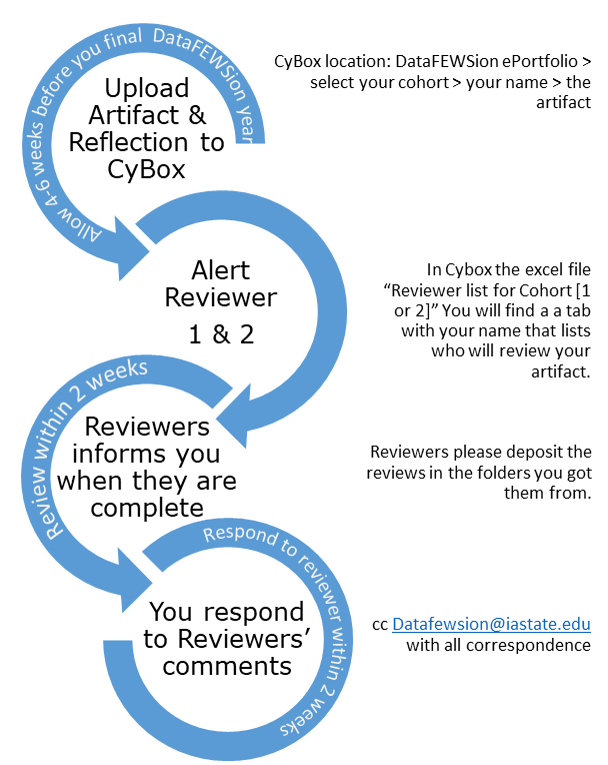 Timeline
It is recommended that the semester you take the Certificate coursework, a course product is submitted as the artifact, with a reflection piece. If they fit the "targeted objective," other products can be submitted; see the tracking form below.
Once you submit an artifact and reflection, you should contact the two peer reviewers. A spreadsheet showing who will review each artifact is in CyBox.
Within two weeks, the peer reviewers should provide a short review of the content related to FEWS and post it in the same folder as the artifact reviewed.  See Peer Review below for the process.
Within a week of receiving the review, the author should provide a brief response to the reviewer addressing the reviewer's comments.
Artifacts
Note: Selection of the artifact should show the trainee's breadth of knowledge and ability to work & communicate with people in other fields.  Below are examples.
Technical report
Formal oral presentation
Publishable academic doc.
Poster
Pitch
Elevator speech
Audio abstract
Coursework product
Multimedia product
Reflection
The reflection should be less than one page.  Suggested reflection questions to address:
Purpose and context of the artifact. Why did you select it?
Describe the intended audience, primary goals, and objectives.
How does the artifact reflect your strengths, interests, or career pathway?
Describe what you learned from the assignment, paper, or project related to FEWS.
The purpose of the DataFEWSion Artifact peer review is two-fold:
Provide feedback to the author as it reflects on their participation in the DataFEWSion program.
Reviewers gain insight into various FEWS-related content and the opportunity to interact.
NOTE:  the fact that a paper has been published doesn't mean that it doesn't have flaws, conceptual or otherwise. Evidence of this is that many journals publish errata and comments on the original papers. In addition, as it recently happened, it widely publicized COVID19 studies, and journals retract articles if warranted. If the review finds flaws, it may provide useful information for the portfolio holder, as they may decide it is better to change the artifact.
 Review Guidelines:
Comments should have a professional tone.  The following should be addressed:
How does the artifact meet the targeted objective listed on the DataFEWSion tracking form below?
Is there another outlet (i.e., LinkedIn) where all or part of this artifact could be highlighted?
Note: you may not be able to validate the science from another field, but you can evaluate the artifact on many levels.  You are not checking grammar or writing style.  In general, the product has been graded or submitted to a journal.
How to conduct a Peer Review
Reference the Handbook Appendix 4: Peer Review Outline 
You can find other students' artifacts, reflections, and reviews as examples.  They can be found in Cybox under each person's name.  For a compiled list of Cohort 1 reflections and reviews — see CyBox>DataFEWSion ePortfolio>Cohort 1 Reflections and Reviews.docx  https://iastate.app.box.com/folder/127827968160.
You can find peer review training in many places. Elsevier, a reputable general publisher, has a "Certified Peer Reviewers Course" https://researcheracademy.elsevier.com/navigating-peer-review/certified-peer-reviewer-course and other related training and content, as does Wiley https://authorservices.wiley.com/Reviewers/journal-reviewers/how-to-perform-a-peer-review/step-by-step-guide-to-reviewing-a-manuscript.html.
Elsevier states: Practices, requirements, instructions, and methodologies can vary considerably according to the context in which you are working, the type of journal, and the specific editor and title. Refer to your journal's guide for authors and any specific instructions or advice from the editor or journal for the most relevant instructions for your review. (use these to develop your style)
Creating your style of peer-review will be based on your field and the journals you publish in. Reading each other's reviews will give you examples of many styles. 
 Artifact Tracking Form
| | | | |
| --- | --- | --- | --- |
| Artifact | Semester Submitted | Certificate Curriculum Knowledge Area |  Targeted Objective from NSF proposal |
| 1 | | ABE 690 Biosystems for Sustainable Development | Understanding of the interactions among food production, renewable energy generation, and water quality (O2.1) |
| 2 | | Economics, Policy, or Sociology of FEW | Knowledge of the economic, social, and policy contexts of those interactions (O2.1) |
| 3 | | Data acquisition, visualization, and analytics | Effective use of systems modeling to represent & illuminate FEWS interactions (O2.1) |
| 4 | | Complex systems modeling for decision support | Ability to use decision science and analytics in FEWS to interpret heterogeneous data from a variety of processes (O2.2) |
| 5 | | GR ST 566 Communications in Science | Ability to communicate across disciplinary boundaries (O3.2) |
| 6 | | Open | Ability to work effectively in teams (O3.2) |
NOTE: The identifier in parentheses is the outcomes and goals of the proposal.
LinkedIn Sections where artifacts/products could be located
 

DataFEWSion Artifacts/Products

LinkedIn Sections

About/ Summary

Publications

Courses

Projects

Organizations

Volunteer Experiences

Technical report

x

x

x

x

 
 

Formal oral presentation

x

 
 

x

 

Sci Comm Fellowship

Publishable academic doc

 

x

 

x

 
 

Poster presentation

 

x

 

x

 
 

Pitch

 
 

x

 
 
 

Elevator Speech

 
 
 
 

3MT

 

Audio Abstract/ Highlight

x

 
 

x

 
 

Data Visualization

x

 
 

x

 
 

Thesis/dissertation

 

x

 

x

 
 
Symposium
Each year a program-wide research symposium, where each trainee will have an opportunity to present their work to industry leaders.  The research symposium will have a focused topic and include keynote speakers, an interactive student poster session, and/or TEDx-style oral session.  The DataFEWSion Industrial Advisory and Diversity boards, faculty advisors, and interested students are also invited.
Professional Development Grant (aka travel & publication grant)
The DataFEWSion Graduate Traineeship Program will set aside a portion of the NSF NRT award for trainee and alumni travel and/or publication assistance each year.  This grant aims to increase trainees' networking opportunities and build their resumes through name recognition on citations and presentations skills at professional conferences.
Details
The maximum amount available per fiscal year for the grant program is $10,000.
Travel grants are available on a competitive basis. Please apply as soon as possible because of limited funds.
Trainees and Alumni can receive a maximum of $1,000 per fiscal year (July 1st – June 30th), which is a combined total from travel or publication fees.
A "research and travel grant review committee," made up of at least one member of the leadership team and two students, will review the applications. Student representatives will serve one academic year and provide periodic reports to their peers.  If there is not a consensus online, they will meet in person.
Preference will be given to applicants:
presenting at scientific conferences, meetings, or symposia
publishing on FEWS nexus topics outside your research
have not been funded in the past.
A return on investment is requested from each recipient through at least one of the following:
Acknowledging NSF & DataFEWSion's support on the poster or in presentation (NSF acknowledgment must be included on papers)
providing a picture of the participant at the event or link to the publication
presenting to peers information obtained from the event or a synopsis of the paper
Eligibility
Open to current DataFEWSion graduate trainees.
Open to Alumni of the DataFEWSion graduate traineeship program who are in the process of completing their degree and are still registered at Iowa State University.
The applicant must be in good standing with the DataFEWSion program. Current trainees must have attended 80% of the programming and progress in certificate completion.  Traineeship alumni must have completed all program requirements.
Application Process
Apply online;
Travel grant: https://app.smartsheet.com/b/form/97b956d737cf4ec2b20a889fe39028e5
Publication assistance grant: https://app.smartsheet.com/b/form/c7c38583155f4cea8d18c32a07691f01
For timely consideration, please submit applications at least two weeks before the event or submission of the publication.
Payment will be made after the event or acceptance of paper through ISU workday.
Decisions will be made promptly and based on how the travel is linked to FEWS and the availability of funds.
The applicant must follow the ISU Workday reimbursement procedure (see below).
Restrictions
International travel is excluded.
Applicants can be reimbursed only for the actual amount spent for airfare, hotel, registration, and publication fees up to the maximum amount.
Workday Reimbursement
All expenses are reimbursed through a Workday Expense Report. When you return from your travel, you should create an Expense Report in Workday.  For more information and/or instructions on creating Expense Reports, please visit WorkCyte. You might benefit from taking the Learn@ISU training entitled Creating Expense Reports. This computer-based training is located in the Learn@ISU WorkCyte Finance System Training catalog (search Creating Expense Reports in the search box).
All travel expenses must be cash expenditures (Summary of Allowable Travel Expenses in ISU Policy Library). University policy states that noncash expenses will not be reimbursed (e.g., airfare vouchers, credit card points, mileage points, etc.). Travel expense reimbursement will not be processed until all required documentation is received and analyzed to meet funding requirements.   If other travel support programs are funding you, it is expected that you will alert us to the amount.
For additional questions regarding the Expense Report process, contact finance_delivery@iastate.edu.
Timeframe for reimbursement
Students will have two weeks (14 days) from the last day of travel to submit reimbursement requests and itemized receipts with proof of purchase on all receipts to be eligible for reimbursement, per Workday.
Travel resources
ISU Procurement has travel resources; check out this page https://www.procurement.iastate.edu/news/2022/spring/making-plans-to-travel- 
NSF guidelines and requirements
NSF Requirements and Evaluations
The National Science Foundation (NSF) goals are to monitor the program through a comprehensive performance assessment and project evaluation plan. The evaluation is built around project goals and designed to assess effectiveness and impact and provide indicators for corrective action to enhance outcomes. Therefore, various short surveys will be conducted throughout the year and used to adjust programming.  Of course, you are always welcome to make suggestions.
NSF Acknowledgement Guidelines
If papers that you publish or presentations that you give at conferences feature research that you conducted, in part or in full, while supported by the NSF NRT DataFEWSion Traineeship program, it is crucial to credit the National Science Foundation. Even if the NSF award did not provide direct financial support for the execution of your research (e.g., costs of fieldwork or lab analyses), the stipend provided support for your time while completing your work and, therefore, should be acknowledged.  See appendix 6: NSF Acknowledgement Guidelines for more details https://datafewsion.iastate.edu/nsf-acknowledgement-grant-number/
.Summary information of the NSF NRT proposal is in Appendix 7: NSF NRT Proposal Summary.
Annual Progress Report
Purpose
The information from the report will be incorporated into DataFEWSion's annual report to the NSF. Annual reports, sometimes call performance reports, are standard procedures for many professionals in academia, government, and industry.  The information allows you to review the past year's accomplishments and can be a time to update your CV.  Or, if your CV is updated already, it can be used to populate the annual report.   Knowing how to submit a professional report prepares you for success.
Reporting
All trainees must complete a progress report annually.  The reporting period will be from August 15th of the past year through August 14th of the current year.
Deadline
The report will be due on June 1st of each year. Include any predicted activity through August 15th.
General guidelines for Progress Report
Assume that an outside agency/department/VPR office may not know all the acronyms or specific programs within your department. Spell everything out.
Give as much detail as possible –dates, funds, agencies, cooperators, even a website address. Maintaining a detailed document will benefit you throughout your career.
See appendix 8: DataFEWSion Trainee Annual Progress Report guidelines and examples.
Other Relevant Information
Social Media
Please feel free to link your LinkedIn or Twitter to DataFEWSion – #datafewsion.  Doing so will help in promoting you to other organizations.
Networking
DataFEWSion Business Cards are available for you to use as a networking tool.  You may request as many as you would like for conferences or other occasions.