DataFEWSion: Preparing tomorrow's food-energy-water systems experts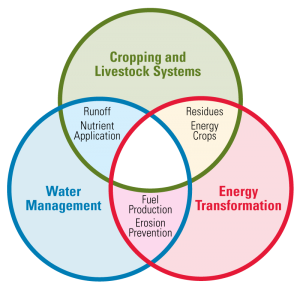 Iowa State is home to a new National Science Foundation traineeship program preparing the next generation of food-energy-water (FEW) systems innovators. Open to both masters and Ph.D. students, the DataFEWSion program offers a unique focus on data-rich systems modeling at the intersection of energy transformation, water management, and cropping and livestock systems.
Faculty members from industrial and manufacturing systems engineering, agricultural and biosystems engineering, aerospace engineering, mechanical engineering, agronomy, economics, sociology and natural resource ecology and management will come together to prepare students for careers in research, policy making and bioeconomy entrepreneurship.
ISU College of Engineering/ Read full article
---
NSF grant aims to train research-based graduate students for various career paths
A National Science Foundation (NSF) grant awarded to an interdisciplinary team led by an industrial engineering faculty member will combine elements of engineering with agriculture, economics and sociology to prepare research-based graduate students for an array of career paths.
Sarah Ryan, Joseph Walkup Professor in industrial engineering (IE), will serve as the Principal Investigator (PI) on a nearly $3 million grant awarded by NSF's Division of Graduate Education. Ryan said this traineeship project will help to prepare research-based graduate students for a variety of career paths, including research scientists, bioeconomy entrepreneurs, agribusiness leaders, policy makers, agriculture analytics specialists and professors.
ISU College of Engineering/Read full article